Flyer Templates
Whether you're looking to create a flyer for an event, party, business, or hobby, we've got you covered. Our feature on flyer design and templates covers everything you need—from how to design an awesome flyer from scratch to collections of stunning flyer templates to help you get started fast.
We'll share a few tips that can apply to any flyer design, walk you through how to use any of the high-quality flyer templates that we regularly feature, and cover the different types of software that can help you tweak a flyer template perfectly!
8 Tips for Designing a Great Flyer
A well-designed flyer grabs the attention of users and is something that people want to grab a hold of – literally.
A flyer is a great way to promote your work, event, or even a business offering. This printed point of contact can help get people excited about something and generate interest. Most flyers aren't that large, ranging from postcards to small poster size.
Start With A Goal in Mind
Pick something you want users to take away from the flyer and focus on that. Don't try to cram too much content into one design.
Focus on achieving a specific goal with your flyer. Whether it's getting more people to visit a conference, sell more products, or raise brand awareness, use a flowing design that helps you achieve this goal.
More important, add a call-to-action at the right places to encourage users to take action as well.
Design With Plenty of Contrast
Users will often first see a flyer from a distance. Use high contrast elements so that it's easy to see (and read).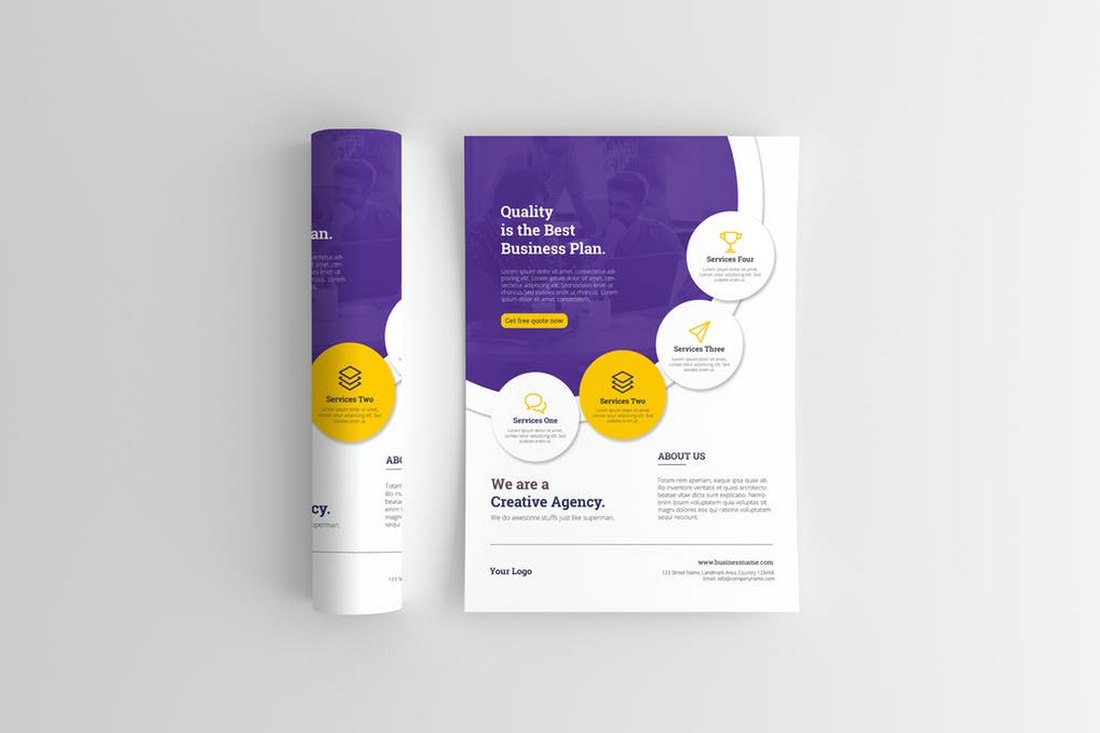 Plan your content layout in a way that grabs attention. Make space for including attractive images, icons, and shapes. Use a color scheme that helps create more contrast to highlight the important parts of your flyer.
Use High-Quality Imagery
The images need to be easy to understand at a glance and help the user connect to the elements in the flyer design. The images should represent what the flyer is showcasing – an event or product or sale.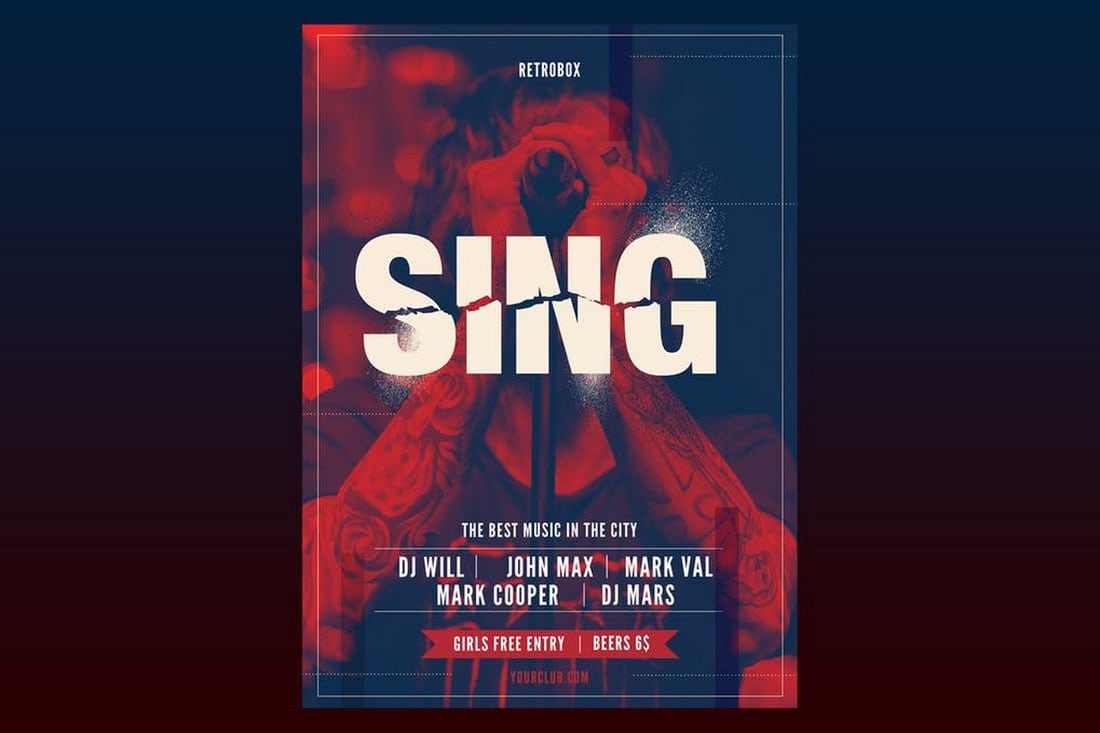 Also, try not to use common free stock images in your design to avoid making the flyer look similar to others. The main point of your flyer is to make your brand stand out from the crowd.
Tell a Story
Use storytelling to evoke emotions and empathy in your audience to create a more impactful flyer design.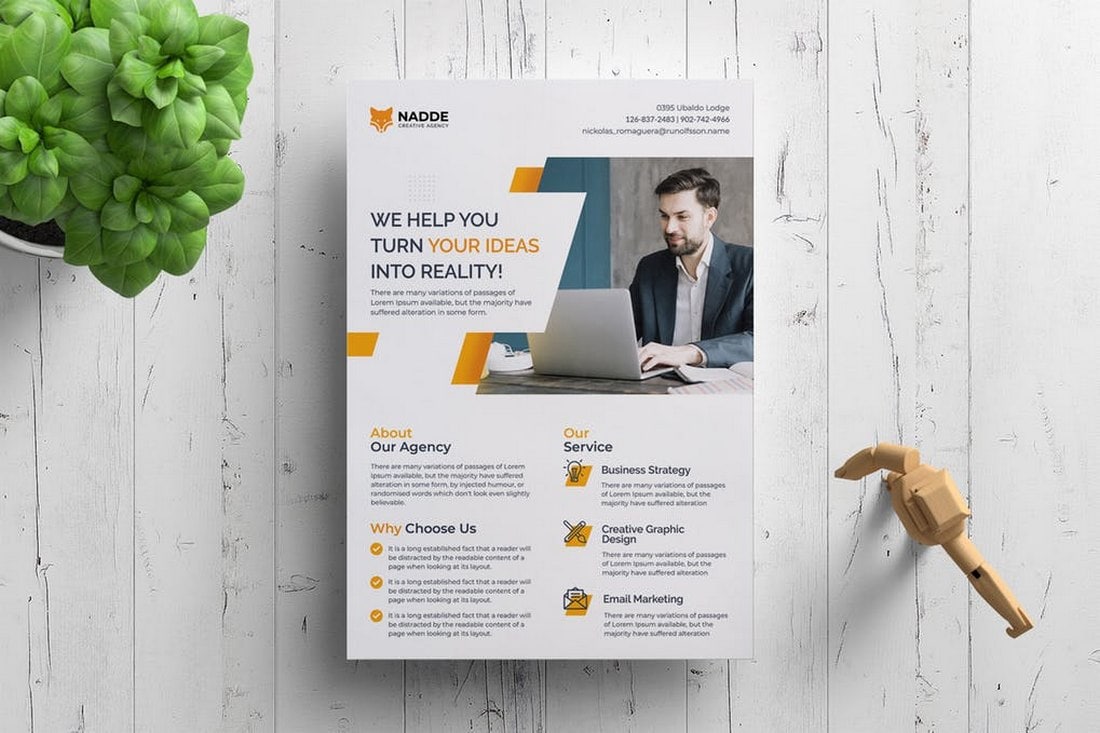 It doesn't matter if you're promoting a corporate business or a charity, a captivating story can make your flyer more unique and memorable.
Use Custom Fonts
Consider using two fonts for your flyer titles and another for paragraph text and descriptions.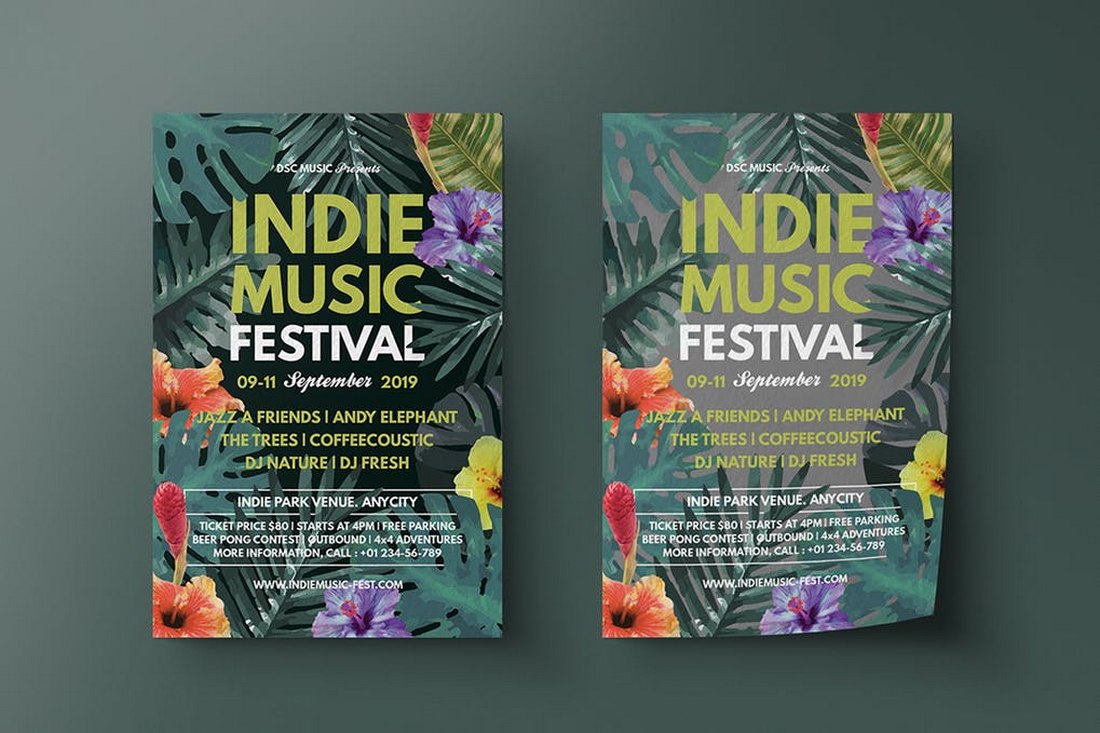 Most flyer templates come bundled with free fonts. However, if you want to create eye-catching titles and call to actions, use custom fonts with better quality designs.
Create A Proper Color Palette
Colors help create contrast in flyer design. Using the right colors you can highlight specific parts of your flyer without affecting the user experience.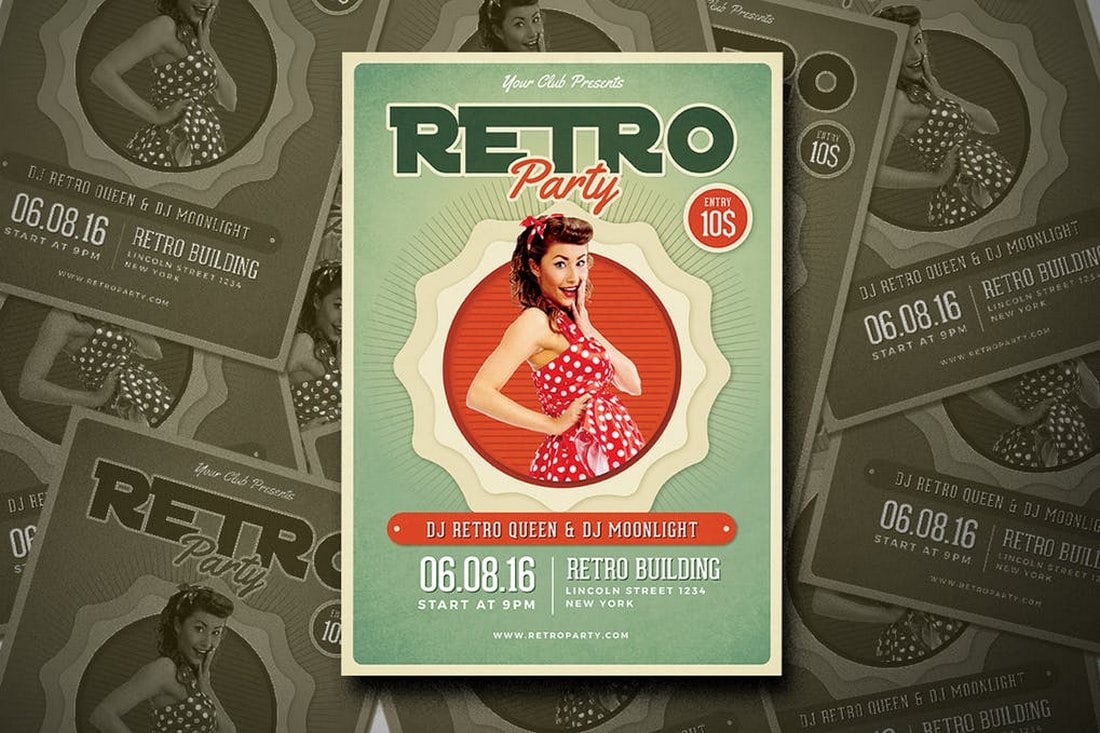 Depending on the theme and the purpose of your flyer design, create a color palette that better represents your brand and delivers the message of your flyer.
Consider the Paper Quality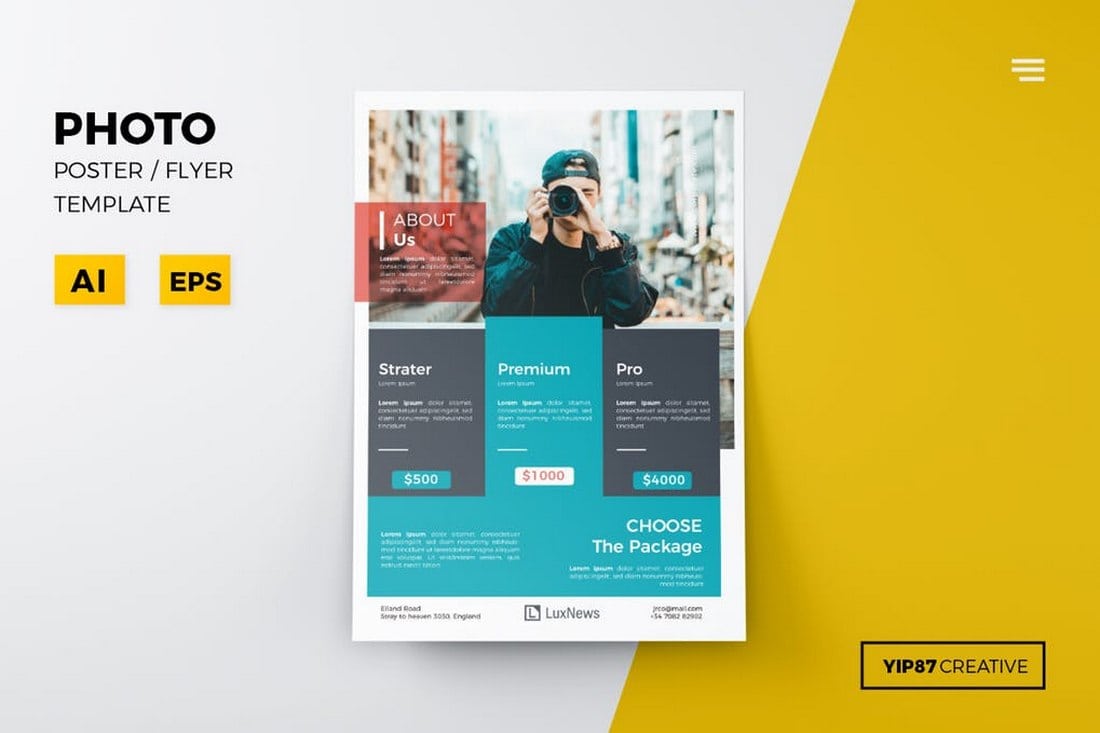 Some prefer using color papers while some use textured paper to print flyers. Consider the type and quality of the paper used to print the flyer before starting the design. It will help determine the right colors and fonts to use in the flyer design
Check for Margins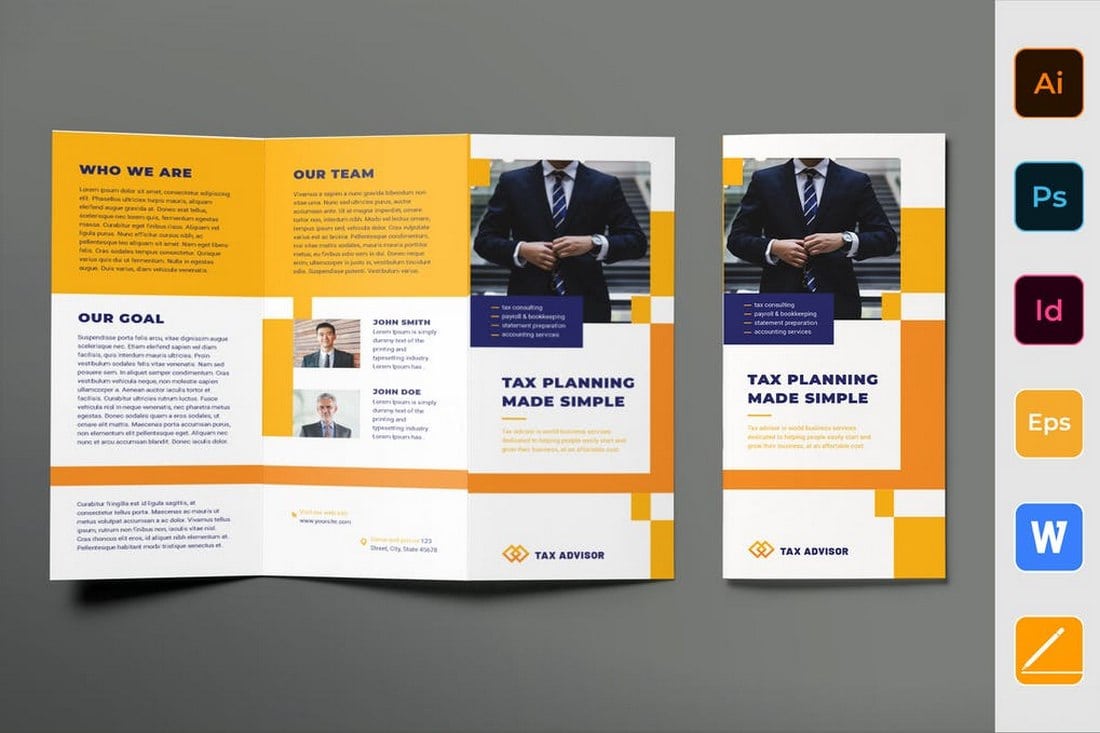 Leaving margins or borders around the flyer is important as they help account for print errors. This is especially the case for designing brochure-style flyers with folds. Make sure to do a test print to double check the margins as well.
How to Use a Flyer Template
Using a flyer template is easier than you might think. The hardest part might be picking out a template that matches your style and the content you want to promote on a flyer.
Here's how you do it:
Search for a template in the software you plan to use to create the design. Choose from Google Docs, Microsoft Word or Adobe InDesign options in some of the great template galleries featured here.
Once you find a design you like, download the file and open it in the appropriate software. Make sure the size matches your desired print size.
Adjust the bleed to your printer's specifications.
Make the appropriate customizations to text and image elements in the flyer to make it your own.
Output the design and package according to printer specifications. (This will likely include a bleed and CMYK color processing.)
Google Docs, Word, or InDesign? Pros + Cons for Flyers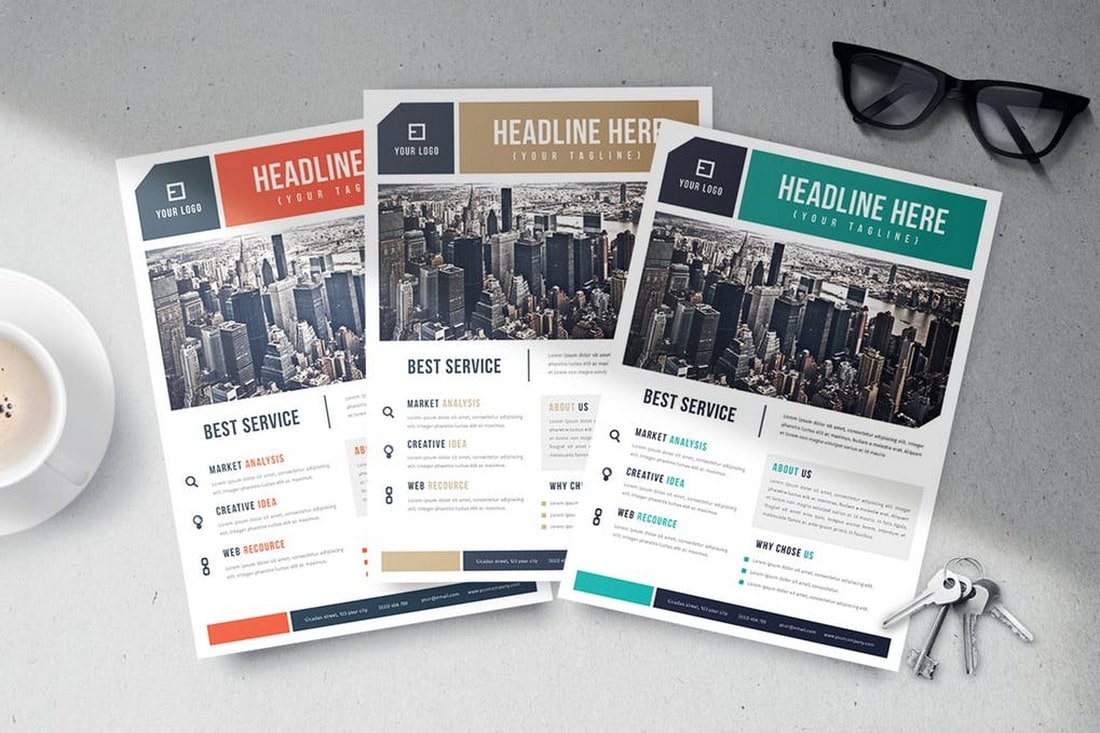 What software should you use to create a flyer design?
The most common tools include Google Docs, Microsoft Word or Adobe InDesign. The best option for you is probably the tool you are most comfortable with and have access to. Here are pros and cons for each tool when it comes to flyer design.
Google Docs
Pros: Free, cloud storage included, robust text processing, user-friendly, easy to share
Cons: Mostly used for word processing, limited number of templates available
Microsoft Word
Pros: Common software that most people know how to use, plenty of free and premium templates available, plenty of export options for printing
Cons: Mostly used for word processing, paid tool that you have to buy, design tools can be limited and somewhat clunky
Adobe InDesign
Pros: Tool made for printed design projects, robust features for design manipulation, plenty of template options available, easy to export/output for printing, can create multiple flyer designs/sizes in one file
Cons: Paid subscription required for software, can require training for people unfamiliar with Adobe products
Premium vs. Free Flyer Templates: Pros + Cons
There are many benefits and downsides to using both free and premium templates. These key points might help you make a decision.
Even Free Templates Come at a Price
Everything in life comes with a price, even the "free" things. This is especially the case for free flyer templates as most of them usually feature terrible designs, bad user experience design, and cluttered content layouts. You pay the ultimate price of hurting your brand reputation when using such flyers.
Needless to say, there's a reason why premium templates come with a price tag because designers spend countless hours perfecting those flyer designs. Unless you're printing a flyer for a small house party or a personal project, you should always consider using a premium template for your flyer designs.
Licensing Matters
Let's not forget that there are many great free flyer templates with amazing designs as well. However, they often come with licenses that limits you from using the template only with your personal projects or requires attribution. This can also affect your brand reputation and credibility in the long run.
Better Quality and Customizability is Important
One of the many benefits of using premium templates is that they often feature easily editable designs with organized layers and smart object layers that allow you to change colors, text, and add images with just a few clicks.
Premium templates also feature better quality designs that show off professionalism and creativity as well.
Easily Editable Template Layouts
Free flyer templates will also limit you from editing the layout of the design. This causes issues when trying to resize the flyer to fit a different paper size or when rearranging and adding more content to the flyer design.
Premium flyer templates, however, usually comes with multiple file formats and sizes allowing you to pick and edit the template however you like using your favorite editing software.
5 Pro Flyer Templates for Popular Projects
Use these example flyer templates designed by professionals to get a head start in your flyer design process.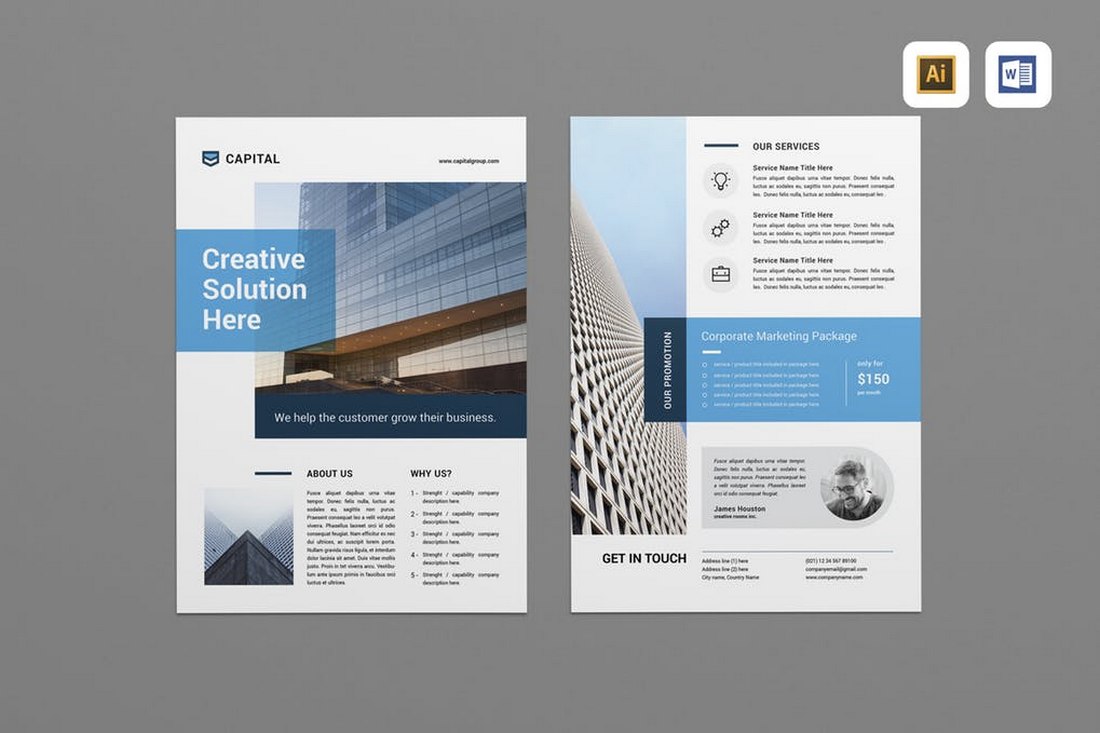 This simple and clean flyer comes with a minimalist design that effectively highlights its content with better contrast. It comes in both Illustrator and MS Word file formats as well.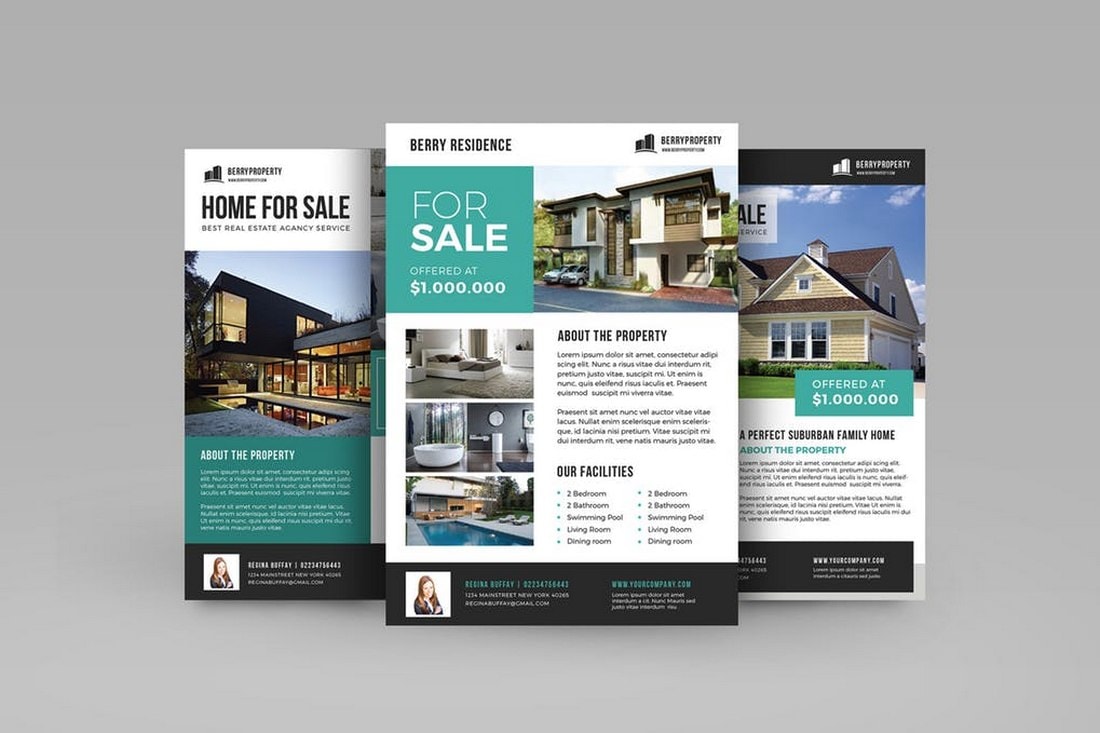 Featuring 3 unique designs, this flyer template pack allows you to create stylish flyers to promote real-estate agencies and sell properties. The templates are available in Photoshop and Illustrator file formats.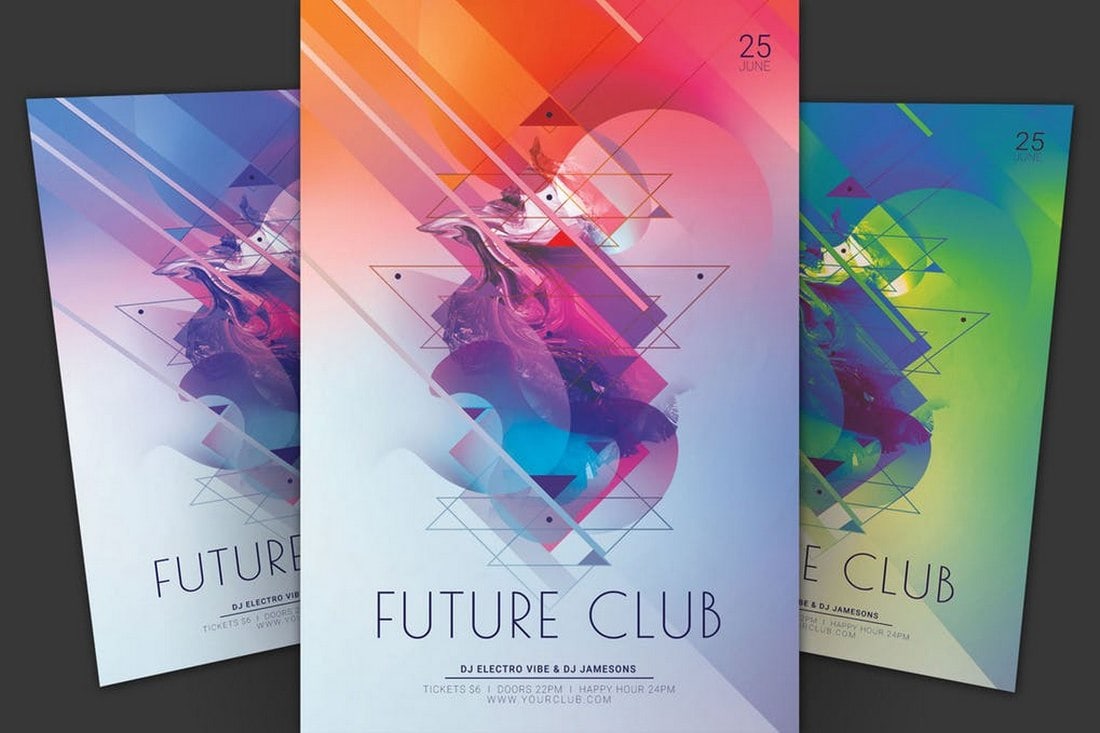 You can use this colorful flyer template to design a professional flyer for a modern urban club. It comes in Photoshop file format with organized layers and multiple color variations.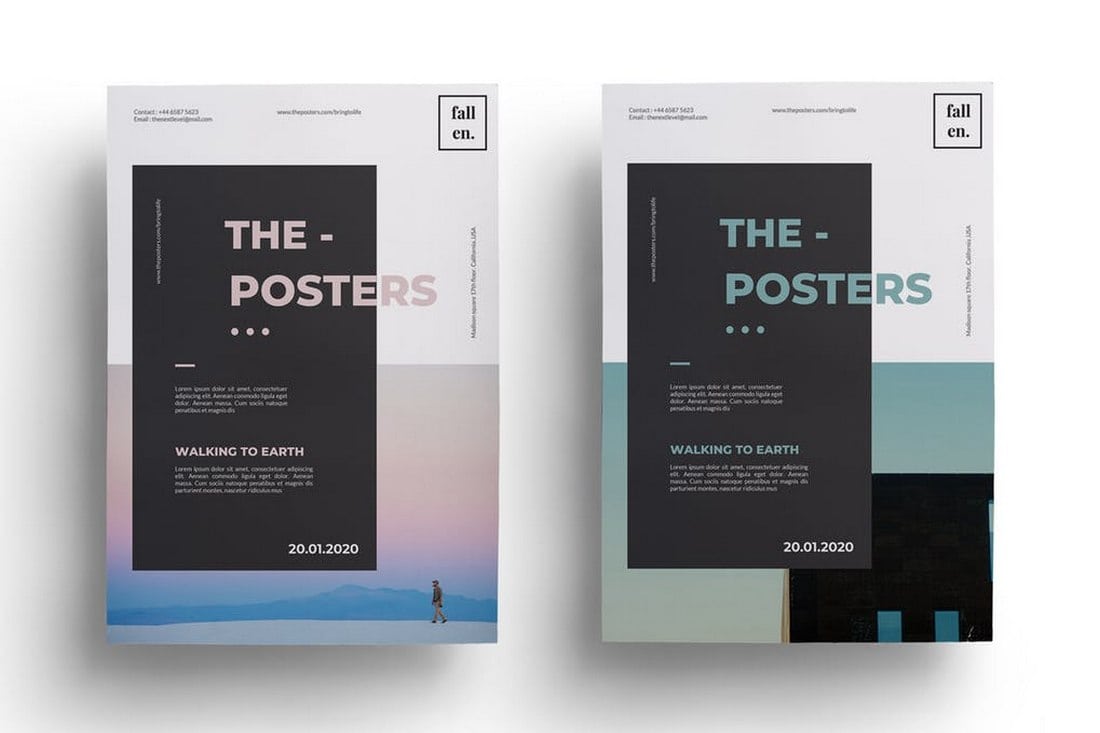 A beautifully minimalist flyer template designed specifically for promoting different types of events. It features a modern design with plenty of space to include details about your events.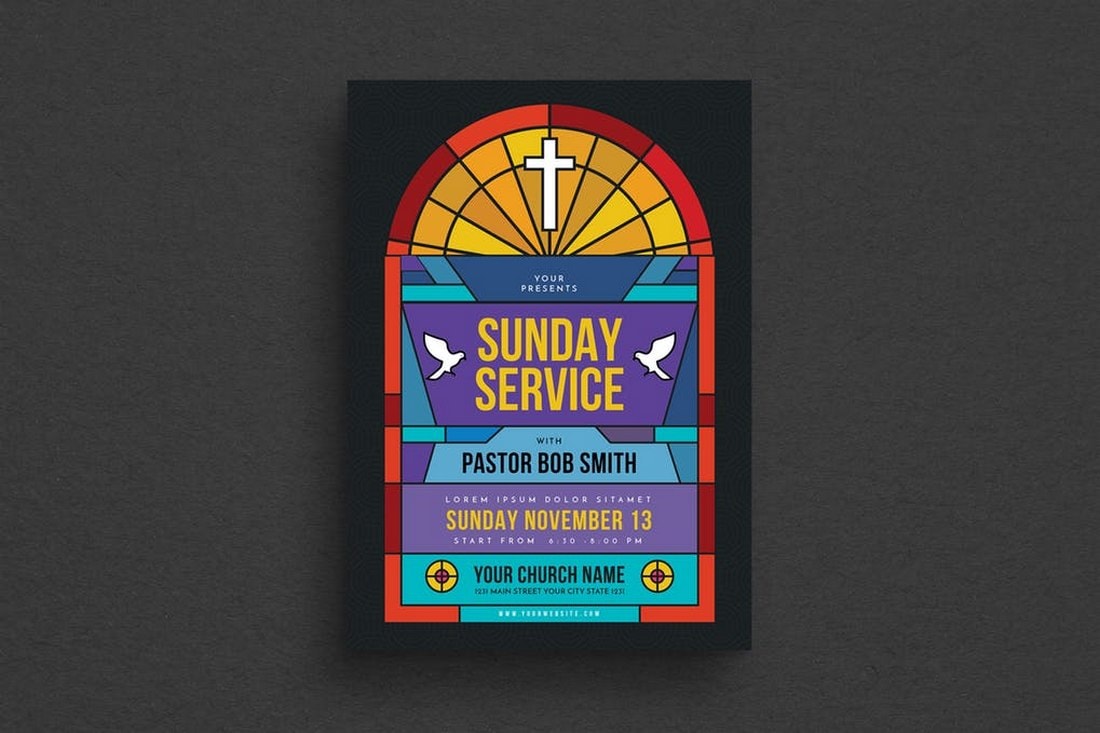 This flyer template is perfect for designing a creative and attractive flyer to promote church sermons, especially to attract young audiences. You can customize it using both Illustrator and Photoshop.
Further Flyer Template Reading